When Victims and Perpetrators Meet
by Diane Lefer
A few years back, after I spent an evening at a halfway house for men on parole, Sister Mary Sean Hodges challenged me. She has worked tirelessly through the Office of Restorative Justice, LA Archdiocese, on behalf of incarcerated men and women and those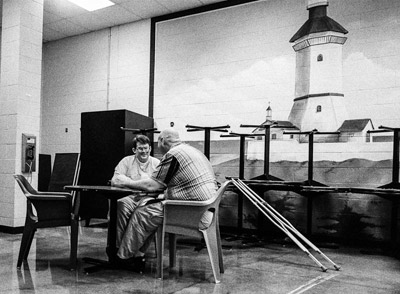 seeking to reenter society. She liked what I'd done advocating for gang members, prisoners, and criminal justice reform, but in her view I had fallen short. "You have to meet the victims, too," she said.
I did, and soon felt overwhelmed and helpless in the face of so much pain and rage. I wished there could be another way — a better way — to cope with such grief, but when I heard of other ways, I was cynical. I loved Reginald Denny for forgiving the teens who beat him unconscious during LA's civil unrest, but, hey, with his head injury, he remembered nothing of the attack and I figured that made it easier to forgive. As for other cases I heard about, seriously, would you open your heart to your child's murderer? I wanted to admire such compassion but it seemed more like delusional naïveté. You'd have to be a saint — or crazy.
So it was with a sense of relief, hope, and gratitude that I watched a sneak preview of Leslie Neale's new documentary, Unlikely Friends, about victims who reached out to the perpetrators whose brutal crimes had caused so much hurt and pain. Perhaps the most remarkable thing about the remarkable relationships she documents is that they actually make sense.
The seed for the film was planted about 20 years ago by a bank robber named Nelson who was featured in Neale's first documentary, Road to Return, about an innovative post-release program for the formerly incarcerated. After serving his time, Nelson had returned to the crime scene out of an urgent need to apologize. What struck Neale was not only Nelson's sense of guilt, but the impact his act had on the teller who'd had his gun held to her head. For twelve years, she said she'd lived with the fear he would come back and kill her. Meeting him, sharing stories and family photos, and hearing his apology freed her at last from the terror that had refused to let go. There was a bigger story here, and Neale knew immediately she wanted to tell it from the victims' perspective.
As she recently explained, "Just as reformers say that prisoners need to be involved in prison reform, I think victims need to have more of their voice heard as well." Usually when that voice is heard, it's from survivors such as Harriet Salarno who appears in the film and founded Crime Victims United, a nationwide organization that has been in the forefront of putting victims' rights on the public policy agenda. Her work lobbying for tough-on-crime legislation, supporting victims and their families as they attend parole board hearings to present their objections to release, is both easier to understand and strongly validated by the adversarial system. "Victims who choose to forgive aren't really given the time of day," Neale says. People are enraged by them. People call them crazy. Some keep quiet about the choice they've made, but some are willing to speak and Leslie Neale wanted their stories told.
She began to learn about the movement for restorative justice which is based on the understanding that when a person commits a crime, it's not just a law that's been violated; someone — or a whole community — has been harmed. Punishment alone — though necessary and often satisfying — will not repair damage or help victims move forward with their lives. Restorative justice brings offenders and victims together to provide a chance for perpetrators to make amends and to promote social and individual healing.
In recent years, some California schools have successfully used the restorative justice model to address school discipline issues. Some police departments have worked with community-based facilitators to address offenses such as vandalism and shoplifting. But could restorative justice really be appropriate for murderers? After watching Unlikely Friends, I began to think that victims of violent crime and their perpetrators are the people who need it most.
To cite just one of the unlikely friendships in the film, there's Steve Watt.
Self-described as pro-gun, pro-Republican, he was a Wyoming state trooper who believed "if you're not a cop or a family member of a cop, you're a dirtbag." Not exactly a bleeding heart. Then a bank robber named Mark put five bullets in him, taking out one of his eyes and leaving him in constant pain, unable to get around without crutches. "I wanted Mark dead," he recalls. Today he calls Mark one of his best friends.
Please watch the documentary before you jump to the wrong conclusion that Steve Watt must be soft in the heart or the head.
Steve and other crime victims in Unlikely Friends didn't met the offenders in order to love them. They went seeking relief and answers, sometimes confrontationally as when Debbie in Arizona insisted that her son's killer look at photos of the young man whose life he had taken. For Debbie, who had been obsessed with the desire to see her son's killer dead — whether by the death penalty or by her own hands — what she calls "forgiveness" was at first simply saving herself from that all-consuming hatred and bitterness. Today she is grateful that capital punishment was not imposed.
According to Azim Khamisa, whose son Tariq was shot dead by a 14-year-old boy, "Resentment is like drinking poison and waiting for your enemy to die." The author of the book From Murder to Forgiveness, Khamisa reached out to the shooter's grandfather and together they founded the Tariq Khamisa Foundation, dedicated to stopping youth violence. He says, "Forgiveness is a gift I am giving myself."
But if victims reach a place of peace for their own well being through forgiveness, Neale found while doing research and interviews that offenders were also deeply affected. Profound transformation can occur in the perpetrator when victim and offender meet in dialogue — something usually prevented under our adversarial legal system. Victims usually address perpetrators only at sentencing hearings when, still reeling with shock and loss, they may call the offender a monster and demand the most severe punishment. Defendants are told not to apologize to their victims and victims' families. If they ignore their lawyers and try to plead guilty and accept responsibility, the judge may refuse to accept a guilty plea. Many prison officials refuse to allow victim-offender dialogue. (And even when they do, many stories don't get told — including those that Neale had to leave out of the film when prison authorities did not allow access.) Upon release, ex-offenders are often prohibited under penalty of law from contacting their victims — a protection that may be essential in some cases but also prevents victims like the bank teller from finding relief.
Mark admits that when he shot Steve, he didn't see him as a person but merely as an object standing in his way. Now he sees many prisoners who twist everything around so they can blame the victim for their circumstances. He cannot do that. Every time Mark sees Steve or hears from him, he can't avoid facing the awful reality of the impact of his crime. If you never see the pain you've caused, he suspects you'll never learn empathy.
And that affects everyone. Most incarcerated people are eventually released and if they return to society filled with resentment instead of insight, we're all in trouble.
In Unlikely Friends, I saw a demanding kind of forgiveness: one that insists first on punishment according to the law but doesn't stop there. It moves beyond the law to catalyze rigorous self-examination and moral growth on the part of those who've done wrong. If it's love, it starts as tough love.
"Most offenders suffer from guilt," says Khamisa, and as I watched Unlikely Friends, I thought about how easily a person can twist the facts and seek out someone else to blame when the burden of guilt is just too much to bear.
What I witnessed in the film was mutual recognition of shared humanity, a connection that may lead to forgiveness or friendship but is healing to both parties even if it doesn't. Some offenders may be — at least for now — beyond reach. For many, I think the victim reminds the perpetrator of that all but unbearable guilt but by recognizing the offender's humanity makes it possible to acknowledge the guilt and carry it.
Ideas planted by Unlikely Friends are still revolving in my mind. It occurs to me that when the perpetrator becomes human to me, I can't hold the same volume of hatred inside me. Besides, I would rather accept that we live in a world in which we all experience pain and sorrow than believe we live in a world populated by monsters.
* Â Â Â Â Â Â Â Â Â Â *Â Â Â Â Â Â Â Â Â Â  *
Please check the Unlikely Friends website for updates or to sign up for the newsletter to be informed about television airings, film availability, and community screenings.
A special screening of Unlikely Friends on April 27 in Los Angeles will benefit the Amity Foundation. Among its many programs, Amity provides services to incarcerated men and women as well as men, women and families transitioning from residential treatment or incarceration to the greater community. Amity has used Neale's earlier documentary, Juvies, about teens tried as adults, extensively in their educational programs. For tickets, please click here.
To learn more about restorative justice around the world, please click here.
Diane Lefer is an author, playwright, and activist. Her latest books include The Blessing Next to the Wound, nonfiction co-authored with Colombian exile Hector Aristizabal, and the crime novel, Nobody Wakes Up Pretty, from Rainstorm Press, which Edgar Award winner Domenic Stansberry describes as "sifting the ashes of America's endless class warfare." Lefer writes for LA Progressive and is a Contributing Author for New Clear Vision.